Job Report Grim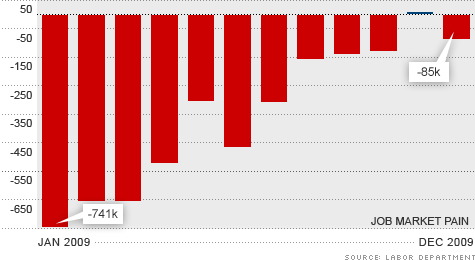 Employers once again slashed a substantial number jobs off their payrolls in December, according to the latest labor report from the government Friday. But there was a small glimmer of hope as well.
The payroll number for November was revised to a net gain of 4,000 jobs. That's the first increase in jobs in nearly two years. The government had previously indicated that 11,000 jobs were lost in November.
Still, the government reported a loss of 85,000 jobs in December — much worse than expected. Economists surveyed by Briefing.com had expected no net gain or loss in payrolls in December. The economy has lost 7.2 million jobs since the start of 2008.
The unemployment rate stayed at 10% in the December, in line with economists' forecasts.
Construction and manufacturing, two sectors of the economy particularly hard hit during the recession, again suffered large job losses in December. Construction lost 53,000 jobs while employment in manufacturing fell by 27,000 jobs.
But the losses were not limited to those areas. Retail employment fell by 10,000 jobs on a seasonally-adjusted basis, even with the holiday shopping season in full swing. The leisure and hospitality industries cut 25,000 workers.
Perhaps the most encouraging news from December was a 46,5000 net increase in temporary help jobs. Temporary employment is typically seen as a leading indicator of job growth because employers will add part-time workers before they're willing to hire permanent employees.
While most economists believe that the recession ended at some point in the middle of 2009, the labor market generally doesn't turn as quickly as the overall economy. Employers often wait to make sure of improved conditions before adding staff once again.
But the disappointing numbers for December raise worries that continued problems in the labor market could keep economic growth weak for much of this year, perhaps even leading to a so-called double dip recession.
Even if there isn't another recession, a so-called jobless recovery can feel like a recession for the typical American worker. After the 2001 recession ended, job losses continued for nearly two years and resulted in 1.1 million additional job losses.