Lane Kiffin Going to USC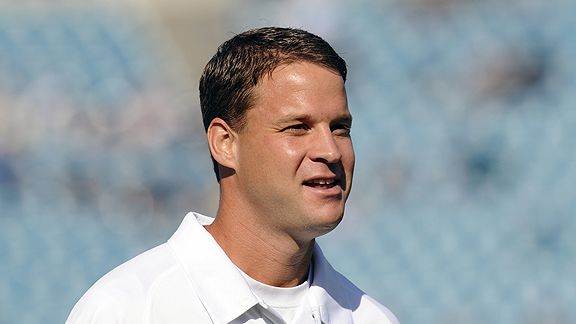 In a bombshell manuever, USC has hired Lane Kiffin from Tennesee.
Tennessee's Lane Kiffin has agreed in principle to become the next head coach at Southern California, sources close to the situation told ESPN.com's Chris Low on Tuesday.
Kiffin would replace Pete Carroll, who jumped to the NFL as coach of the Seattle Seahawks.
Kiffin, the former Oakland Raiders coach, led the Volunteers for only one season.
Sources told ESPN Kiffin will bring his father and defensive coordinator, Monte Kiffin, and assistant head coach and recruiting coordinator Ed Orgeron to Southern Cal with him, and wide receivers coach Kippy Brown will be named interim head coach at Tennessee.
Kiffin has been on the move of late. He was 7-5 in his one season at Tennessee and 5-15 in one-plus seasons with the Raiders before being fired in September 2008.
He was a member of the USC coaching staff from 2001-06.
Several presumptive candidates to replace Carroll had dropped out of the running in the 24 hours after Carroll officially announced his resignation. Former USC linebacker Jack Del Rio committed to staying in Jacksonville on Tuesday, while Jeff Fisher and Mike Riley showed no public interest despite their Trojans ties.
The looming shadow of NCAA sanctions likely worried some coaches, but it can't change the fact USC offers an extremely attractive position with everything necessary to succeed right away: a rich local talent base, ample talent already on hand, a glowing history and a large, wealthy alumni base eager to keep winning.
Quarterback Matt Barkley has said that he is staying at Southern Cal despite the departures of the three coaches to which he was closest: Carroll, Jeremy Bates and Steve Sarkisian.
"It's just a great place to be, and a great place to live," he said. "We've got everything going for us."
Athletic director Mike Garrett was thought to be in charge of the search, but the elusive former Heisman Trophy winner has barely spoken in public for months, shying away from any chance of getting trapped into talking about the NCAA's various investigations into his beleaguered department.
Tailback Allen Bradford and Barkley were among the leaders who called a team meeting before the offseason conditioning program began Tuesday, while receiver Brice Butler and Barkley planned to call all of USC's prospective recruits to urge them to stick with the Trojans.
"I would just tell them what my dad told me: 'Don't commit because of a coach, because that can change,'" said Butler, who came to USC from Georgia. "You've got to commit because of a program, and this is USC."