Playboy Model, Paula Sladewski Found Dead and Burned in Trash Bin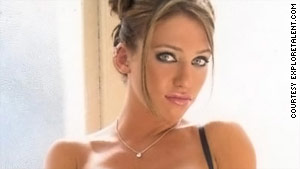 Paula Sladewski, a 26-year-old who once modeled for Playboy, was identified Wednesday by Miami police as the person found dead and "burned beyond recognition" in a trash bin on Sunday.
Now, police are asking for the public's help to put her killer behind bars. Whoever the murderer is, police said, they are nothing short of a "monster."
"It's so horrific. They'd have to be a monster. It's a dastardly act," North Miami police spokesman Lt. Neal Cuevas told CNN. "It's the most heinous thing that a person can do to another person."
Sladewski's body was found Sunday night after firefighters extinguished flames coming from a large trash bin near a propane business.
When they put out the fire, they saw a body. But there was barely any way to identify it.
"It was just total, total, disfigurement," Cuevas told CNN. "You couldn't even tell that it was a woman or a man or even what race."
Cuevas, who was in the area when the call came in, said the trash bin and body were still smoldering when he arrived. Police were able to identify the body through dental records late Tuesday night, he said.
Police are trying to figure out how a model from Michigan, who appeared in a 2003 Playboy video, ended up burned beyond recognition inside the trash bin — and who put her there.
"This was a brutal, horrible, disgusting murder, and this monster or these monsters need to be brought to justice," Cuevas said.
The only timeline police have comes from Sladewski's boyfriend, who was vacationing with her. Because he was the last one to see her, police are considering him a person of interest, but he has not been named as a suspect.
Police said they would consider whoever was the last known person to see her alive a person of interest. Right now, they have no suspects, Cuevas said.
The boyfriend is "devastated and traumatized" by news of the death, said his attorney, Marc Beginin.
"He desperately wants this crime solved and anybody involved brought to justice," Beginin said.
The boyfriend, whom police did not identify, reported Sladewski missing to police and also tried to find her by calling hospitals and jails, interviewing people and hiring a private investigator, Beginin said. The boyfriend also has met with investigators for 12 hours, the attorney said.
"The Miami police are pursuing all leads and doing their jobs. However, ultimately, he doesn't need to be a person of interest," he said.
The couple arrived in Miami on Thursday to ring in the new year by watching Lady Gaga perform, police said.
Cuevas told CNN that Sladewski's boyfriend said they went to Club Space on Saturday and remained until about 7 a.m. Sunday, when they got into an argument.
When he was thrown out of the club after the altercation, Sladewski decided to stay, her boyfriend told police.
That was the last time her boyfriend saw her, according to police. Cuevas said when Sladewski did not return to their hotel by Monday, her boyfriend called police and filed a missing person report.
Sladewski's sister, Kelly Farris, was battling back tears at a news conference Wednesday night. She said her sister had been dating the man for about two years, and he had called her Monday to say she was missing.
Farris said she had last seen her sister, who lived in Michigan and California, at Christmas.
"She loved life, she was full of life," Farris said, beginning to sob. "She went on a lot of vacations. She was a great person."
Farris said her family was devastated by the news of Sladewski's death, especially given the nature of how she was found.
"I couldn't imagine anything like this happening, you know," Farris said. "We can't even give her an open casket. We can't even see her again."
Farris pleaded with anyone who saw her sister at the club or afterward to contact police.
"She did not deserve to die in this way," she said.
And until her sister's killer is found, Farris said she can't imagine what she will do.
"I can't see myself going back to work," Farris said. "I can't see myself living a normal life until I know whoever did this pays for it.