They Might Be Mean, But PCAs Finalist Jimmy Kimmel's "Celebrity Mean Tweets" Skit Always Makes Us Laugh
Jimmy Kimmel has a lot of great aspects to his show Jimmy Kimmel Live!, but one of our favorites is definitely "Celebrity Mean Tweets."
As we all know, Twitter is a hard place to navigate, but watching celebrities read super mean—and a lot of the times, totally confusing—tweets on television is just so funny.
It makes us laugh every time we tune in and see a new celebrity reading something harsh that a Twitter user has actually tweeted about them.
Sure, some of them are really mean, but that's the point right?
What's not mean is the fact that Kimmel's talk show is a finalist for the 2018 E! People's Choice Awards Nighttime Talk Show of 2018 category. What would be mean is if you love the funny talk show and you didn't vote for the show to win at this year's PCAs.
Voting ends on Friday, Oct. 19, so the time is now to vote for Jimmy Kimmel Live! and who knows maybe if it wins there will be some mean tweets about it and Kimmel will feature them on his show.
Wouldn't that be fun?!
In the meantime, check out the best quotes from the hilarious skit below and then vote for your favorite Nighttime Talk Show of 2018!
YouTube
Miley Cyrus
"Miley Cyrus is a smelly pirate hooker"
YouTube
G-Eazy
"G-eazy is like the American cheese of cheeses or like the boxed wine of wines or some other s–tty thing."
YouTube
Tyga
"TYGA PANTS TO TIGHT . #D–KLESS"
YouTube
Gwen Stefani
"Gwen Stefani really is the worst thing to ever happen. Period. Full stop. #UghBarf"
YouTube
Luke Combs
"Peep the fact that Luke Combs looks like the guy who changes your oil at Jiffy Lube"
YouTube
ScHoolboy Q
"Shout out to school boy q, he uglier than a mother f–ker"
YouTube
Elvis Costello
"Elvis Costello is a really great artist. If you're a hipster a–hole."
YouTube
Pink
"P!nk is aging pretty well for a pig"
YouTube
Nickelback
"I would rather stab myself in the taint than hear another Nickelback song."
YouTube
Jason Mraz
"Why is Jason Mraz the unofficial soundtrack for s–t BBQs?"
YouTube
Korn
"Korn. F–k those guys more than nickelback."
YouTube
Halsey
"I like some of halsey's songs but my god she sings like a goat being f–ked in the ass"
YouTube
The Chainsmokers
"One of my employees was talking about how the chainsmokers are actually pretty good and don't deserve all the hate. So I fired him."
YouTube
Luke Bryan
"People say I should be more positive. Ok. I'm positive that Luke Bryan is a horse-toothed, d–kless, air-humping doofus."
YouTube
Jason Derulo
"Jason derulo sucks horse c–k"
YouTube
Dua Lipa
"WTF is a dualipa? Sounds like a sloppy b–w job."
YouTube
The Strokes
"The Strokes. Worst. Piece. Of. S–t. Band. Ever. Made. Period."
YouTube
Imagine Dragons
"Trying to decide which is worse, maroon 5, hitler, or imaginedragons"
YouTube
Remy Ma
"I feel like Remy Ma physically fights her beats. Like she can't rap on beat to save her life."
YouTube
Tyler the Creator
"Tyler the Creator has a small penis with no real talent whatsoever."
YouTube
Lil Yachty
"Lil Yachty's hair looks like liquorice and his teeth look like f–king M&M's he looks like a complete f–king moron."
YouTube
Rae Sremmurd
"I wish I could make sh–ty music like Rae Sremmurd and make millions of dollars for it."
YouTube
Trippie Redd
"Imagine a pile of s–t, but then that pile of s–t takes a s–t. That's what Trippie Redd looks like."
YouTube
Big Sean
"Just when you think maybe the world is gonna be ok, Big Sean comes out with a new piece of s–t song."
YouTube
A$ AP Rocky
"Wow isn't A$ AP Rocky a load of hype bulls–t…yawn, next."
YouTube
DJ Khaled
"Yo dj khaled focus on getting your own fat a– in shape guy, you can't inspire people to be great when you haven't seen your d–k in years."
YouTube
Wale
"I just farted and it smells like @Wale entire discography."
YouTube
Awkwafina
"Awkwafina has the voice of a 58 year old divorce attorney."
YouTube
Lil Wayne
"Lil Wayne is what happens when you pour four loko on a gremlin."
YouTube
Pusha-T
"You're either a lesbian, a toddler, ex-con or Pusha-T if you still rockin braids this year."
YouTube
Anderson .Paak
"Anderson paak looks like he f–ks his cousin tbh."
YouTube
50 Cent
"50 Cent is a moron and needs to be kicked in the BALLSACK."
YouTube
T-Pain
"Hey, what happened to T-Pain? There's still a massive market for sh–ty music."
YouTube
Eve
"Now that @TheRealEve is all postracial and tryna raise colorblind babies…does she still have those pawprints on her ti**ies tho?"
YouTube
Ty Dolla $ ign
"Ty Dolla $ ign looks like the crab from Moana."
YouTube
Logic
"Logic is the worst rapper of all time, Paula Dean can rap better."
YouTube
Yo Gotti
"Yo Gotti forehead so big all his songs count as a duet."
YouTube
Jalen Rose
"Jalen Rose looks like he has Lego hair."
YouTube
Tracy McGrady
"Tracy McGrady looks like a grown ass Steve Urkel w/ Biggie Small's eyes #NBA"
YouTube
Draymond Green
"Draymond Green's jump shot is ALMOST as ugly as his face… Almost."
YouTube
Ben Simmons
"Ben Simmons might have the most boring voice I've ever heard."
YouTube
Glenn Robinson
"I f–king hate glenn robinson man what a bitch"
YouTube
Jimmy Butler
"Jimmy Butler has my most hated player in the league award. Ugly ********. What the **** is that on his head? He look dirty as ****."
YouTube
DeAaron Fox
"DeAaron fox look like a auntie in the face"
YouTube
Andre Drummond
"Stevie Wonder shoots free throws like Andre Drummond"
YouTube
Stephen A. Smith
"Stephen A. Smith is what happens when a human tries to be a Caps lock button."
YouTube
Rachel Nichols
"@Rachel_Nichols can you stop screaming into your microphone! I've never seen someone so annoying on television in my life and I'm old enough to have watched the #nanny"
YouTube
Scottie Pippen
"Scottie Pippen has the face of a man that's been through some s–t."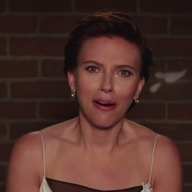 Photos
See More From Celebrity Mean Tweets From Jimmy Kimmel Live!
Watch E!'s People's Choice Awards Sunday, Nov. 11, 2018 at 9 p.m., only on E!